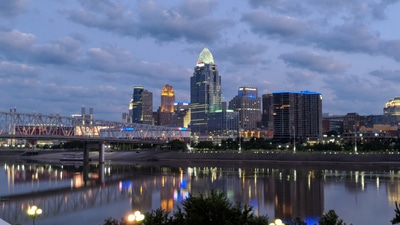 Our SEO and Website / Online Presence Management Reviews
THANK YOU FOR CONSIDERING US!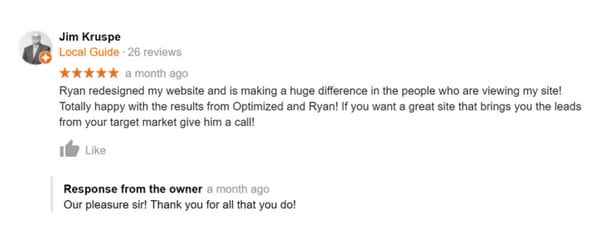 These Guys are the Real Deal!!!!!
-Trisha Berger

I love the website Ryan made for me! Very professional and high ranking on search engines. I've already been getting new clients from people finding my website on Google.
-Jeremy Clintsman | Independence, MO

Ryan was nothing short of amazing! He built me a website very quickly and tailored to all of my wants and needs. He knows how to use WordPress and knows SEO very well for Lawn and landscaping. If you need a custom website or help with search engine optimization look no further! Optimized is highly recommended!
-Jose Covarrubias | Spokane, WA

Ryan really knows his stuff. He not only provides a service for others but has used his tactics for his own websites which proves it works!
-Ryan Strittholt | 777 Computers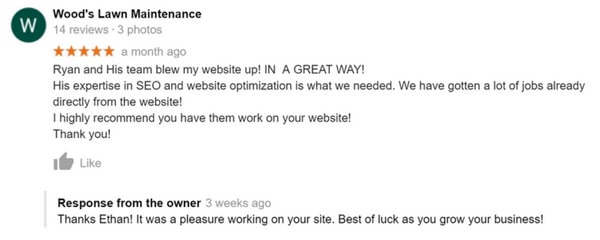 Fantastic company with great information and insight. Very valuable information that helped me get started and grow my business.
-Thomas Mulvihill

If you are looking to grow a successful business you NEED to talk to Ryan!!! He is a great source of information when in it comes to lawn care and business in general!
-Jayme Rice | AAA Insurance

Ryan, is very helpful! You can't go wrong with using him.
-Chris | North Texas Turf Pros, LLC

I highly recommend Optimized SEO ! Ryan has helped me grow my business and create an awesome company website . I am currently ranked on the first page in search results which gives a high volume of customers to my website. Very knowledgeable and professional!
-Chris Sloan | Cincinnati, OH

Ryan came up with a game plan that fit our needs for all of our websites. He and his team went above and beyond all while keeping our sites up and running while the work went on. Ryan and team are top-shelf. They've earned a customer for life with us.
-Drew Callaway | Dalton, GA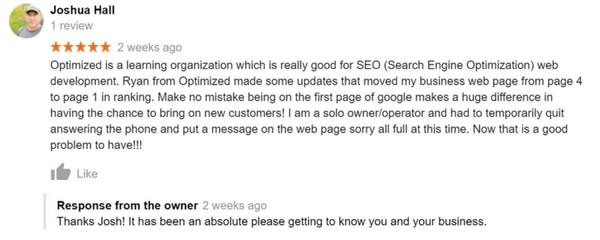 Great to work with.
-Eric Levenhagen | Pewaukee, WI

I had Ryan build my companies website and WOW! The website is awesome. The website is already ranking after about 2-3 weeks! Thank you!
-Edward Landreth | Schardein Mechanical
(Louisville | E-Town |Bowling Green)

I enjoy working with Ryan and his team. I had an idea of what I want my website to be and they made it 10X better. If you have a lawn or landscaping company, you need to have Optimized SEO and Websites.
-Nelson Zutali | Canton, OH